Dr Chan is an academic neurologist whose primary area of research is in the detection of Alzheimer's disease (AD) in its earliest stages, prior to the onset of memory problems. To this end Dr Chan is honorary associate professor at the Institute of Cognitive Neuroscience, University College London. His research has been published in the top academic journals including Nature and The Lancet. In particular his work focuses on three themes, namely
science that translates discoveries made in the fields of cellular and systems neuroscience to early AD diagnosis (example publication: Wood et al. (2018) The Honeycomb Maze: a new behavioral test for hippocampal-dependent spatial navigation and memory. Nature 554, 102-105. View Paper)
the application of novel technologies to the detection and monitoring of AD (example publication: Howett et al. (2019) Differentiation of mild cognitive impairment using an entorhinal cortex-based test of VR navigation. Brain 142, 1751-1766. View Paper)
reducing risk of future dementia via engagement in lifestyle activities that boost cognitive reserve and maintain brain health in later life (example publication: Chan et al. (2018) Lifestyle activities in mid-life contribute to cognitive reserve in late-life, independent of education, occupation and late-life activities. Neurobiology of Aging 70, 180-183. View Paper).
Translational research is undertaken in collaboration with Nobel Laureate John O'Keefe at UCL (for a review of the science underlying this approach please see Professor O'Keefe's notes on the Nobel Prize webpages.
Dr Chan's tech-based diagnostic research includes the pioneering use of app- and virtual reality-based tests to identify early AD with greater diagnostic accuracy than the memory tests used currently in clinic. Extending this work, Dr Chan collaborates with computer scientists based at the University of Cambridge and the Alan Turing Institute on the development of wearables-based approaches for detecting early AD. To this end, he is co-lead for a new flagship Alzheimer's Research UK national programme aimed at developing a new "digital diagnostic toolkit" for detecting early stage neurodegenerative disease.
Examples of Dr Chan's research using VR to detect early Alzheimer's disease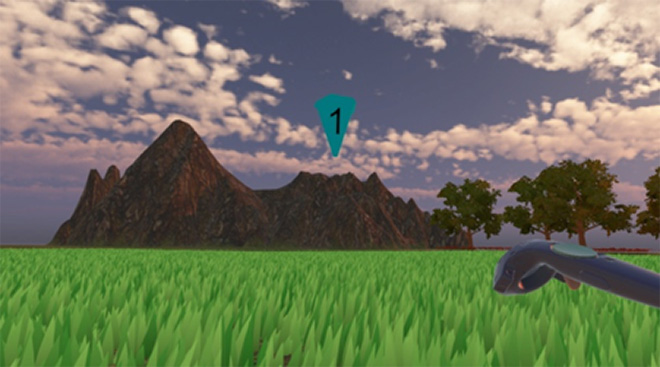 A screenshot of the VR navigation task
Dr Chan has received research grant funding from the Medical Research Council, Wellcome Trust, Alzheimer's Research UK, Alzheimer's Society, Innovate UK and the Alan Turing Institute. His research has been extensively covered by the national and international news media (pls see the Media interviews and news articles page for some examples of media coverage).
Selected Recent Publications
Howett D, Andrea Castegnaro A, Krzywicka K, Hagman J, Marchment D, Henson R, Rio M, King J, Burgess N, Chan D (2019) Differentiation of mild cognitive impairment using an entorhinal cortex-based test of VR navigation. Brain 142, 1751-1766
Eshaghi A, Kievit R, Prados F, Sudre C, Nicholas J, Cardoso M, Chan D, Nicholas R, Ourselin S, Greenwood J, Thompson A, Alexander D, Barkhof F, Chataway J, Ciccarelli O (2019) Applying causal models to explore the mechanism of action of simvastatin in progressive multiple sclerosis. Proc Natl Acad Sci USA 116, 11020-11027.
Koychev I, Lawson J, Chessell T, Mackay C, Gunn R, Sahakian B, Rowe J, Thomas A, Rochester L, Chan D, Tom B, Malhotra P, Ballard C, Chessell I, Ritchie C, Raymont V, Leroi I, Lengyel I, Murray M, Thomas D, Gallacher J, Lovestone S (2019) Deep and Frequent Phenotyping Study Protocol: An Observational Study in Prodromal Alzheimer's Disease. BMJ Open Mar 23;9(3):e024498. doi: 10.1136/bmjopen-2018-024498.
Vovk A, Patel A, Chan D (2019) Augmented reality for early Alzheimer's disease diagnosis. Proceedings, Human-Computer Interaction Conference 2019 (in press)
Wood R, Bauza M, Krupic J, Burton S, Delekate A, Chan D, O'Keefe J (2018) The Honeycomb Maze: a new behavioral test for hippocampal-dependent spatial navigation and memory. Nature 554, 102-105
Manousakas D, Mascolo C, Beresford A, Sharma N, Chan D (2018) Quantifying privacy loss of human mobility graph topology. Proc Privacy Enhancing Technologies https://www.petsymposium.org/2018/files/papers/issue3/popets-2018-0018.pdf
Chan D, Shafto M, Kievit R, Matthews F, Spink M, Valenzuela M, Cam-CAN and Henson R (2018) Lifestyle activities in mid-life contribute to cognitive reserve in late-life, independent of education, occupation and late-life activities. Neurobiology of Aging 70, 180-183
Zala D, Chan D, McCrone P (2018) The cost-effectiveness implications of suboptimal treatment for different severities of Alzheimer's disease in the United Kingdom. Int J Geriatr Psychiatry 33, 307-315
Chan D, Binks S, Nicholas J, Frost C, Cardoso MJ, Ourselin S, Wilkie D, Nicholas R, Chataway J (2017) The effect of high-dose simvastatin on cognitive, neuropsychiatric and health related quality of life measures in secondary progressive multiple sclerosis: secondary analyses from the MS-STAT randomised controlled trial. Lancet Neurol 16, 591-600
Wood R, Moodley K, Lever C, Minati L, Chan D (2016) Allocentric Spatial Memory Testing Predicts Conversion from Mild Cognitive Impairment to Dementia: An Initial Proof-of-Concept Study. Front Neurol 2016 Dec 1;7:215. eCollection 2016.
Wood R, Moodley K, Hodges JR, Allinson K, Spillantini MG, Chan D (2016) Slowly progressive behavioural presentation in two UK cases with the R406W MAPT mutation: a novel clinico-anatomical phenotype. Neuropathol Appl Neurobiol 42, 291-295
Pfeifer G, Ward J, Chan D, Sigala N (2016) "Representational account of memory: insights from aging and synaesthesia". J Cognitive Neuroscience 28, 1987-2002
Chan D, Gallaher L, Moodley K, Minati L, Hartley T, Burgess N (2016) The 4 Mountains Test: a short test of allocentric spatial memory with high sensitivity for the diagnosis of pre-dementia Alzheimer's disease. J Visualized Experiments Oct 13;(116). doi: 10.3791/54454.
Moodley K, Perani D, Minati L, Della Rosa P, Pennycook F, Dickson J, Barnes A, Contarino V, Michopoulou S, D'Incerti L, Good C, Fallanca F, Vanoli E, Ell P, Chan D (2015) Simultaneous PET-MRI studies of the concordance of atrophy and hypometabolism in syndromic variants of Alzheimer's disease and frontotemporal dementia: an extended case series. J Alzheimer Disease 46, 639-653
Hopkins S, Chan D (2015) Key emerging issues in frontotemporal dementia. J Neurol 263, 407-413
Wood R, Hopkins S, Moodley K, Chan D (2015) Fifty percent prevalence of extracampine hallucinations in Parkinson's disease patients. Frontiers in Neurology Dec 21;6:263 doi: 10.3389/fneur.2015.00263.
Moodley K, Minati L, Contarino V, Prioni S, Wood R, Cooper R, D'Incerti L, Tagliavini F, Chan D. (2015) Diagnostic differentiation of mild cognitive impairment due to Alzheimer's disease using a hippocampus-dependent test of spatial memory. Hippocampus 25, 939-951
Minati L, Chan D, Mastropasqua C, Serra L, Spano B, Marra C, Caltigirone C, Cerceignani M, Bozzali M (2014) Widespread alterations in functional brain network architecture in amnestic mild cognitive impairment. J Alzheimer Disease 40, 213-220
Chataway J, Alsanousi A, Chan D, MacManus D, Hunter K, Foster J, Bangham C, Wilkie D, Nicholas J, Clegg S, Nielsen C, Scheurer N, Calder V, Greenwood J, Frost C, Nicholas R (2014) The MS-STAT trial: High dose simvastatin demonstrates neuroprotection without immune-modulation in secondary progressive multiple sclerosis (SPMS) - a phase II trial. The Lancet 383, 2213-2221
Pfeifer G, Rothen N, Ward J, Chan D, Sigala N (2014) Associative memory advantage in grapheme-colour synaesthetes compared to older, but not younger, adults. Frontiers in Psychology 5, 696